Excavation and Demolition Contractor in Cabool, MO
Dotson Excavating is proud to be the premier local, family-owned and operated business specializing in residential and light commercial excavating services in Cabool, MO and the surrounding areas. We have been offering solid work and great customer service since 2009.
Learn more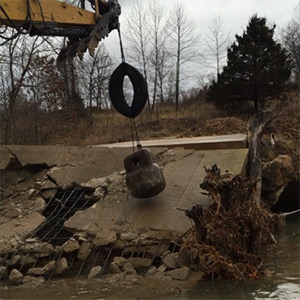 What do you look for when hiring a service for residential or light commercial excavation in Cabool, MO? If your answer includes experience, reliability, affordable rates, timely work and dedication to quality, then we hope you will consider hiring Dotson Excavating. Since 2009, we have proudly built a strong reputation for ourselves as the most capable, friendly and reliable excavating service in the greater Cabool area, and that reputation shines through in the excellent work we have done all over town. We have already provided quality excavating for hundreds of valued clients, and we look forward to doing so for your home or business as well.
Professional Excavator
Dotson Excavating offers a complete range of excavating services for driveways, roads, building pads, ponds, small lakes, land clearing, demolition, grading and much more. Our resident expert excavator has nearly 15 years of experience in the industry, and we are fully equipped to handle any project, large or small. As a locally owned and operated small business, we are committed to providing complete customer satisfaction with each and every job we take on. Here are just a few reasons why you can always feel confident about trusting Dotson Excavating to be your excavator in Cabool, MO:
We are a proud locally owned and operated small business in Cabool, MO.
We offer a wide range of residential and commercial excavating services.
Our expert excavator has nearly 15 years of experience.
We always make customer satisfaction our number one priority.
Our excavating rates are always fair.
Check out our
NEW BRUSH CUTTER!
This land reclaiming tool is perfect for dealing with taking small trees out, brushes, thickets, and more. You won't have leftover yard debris requiring requiring removal, as this machine will mulch it! You won't have to worry about losing grass, dirt, or topsoil either, this just reclaims your land without damaging the ground. Call us today!
Areas Served
We offer the best in demolition and excavating services in the following cities.
Cabool, MO
Marshfield, MO
Rogersville, MO
Lebanon, MO
West Plains, MO
Marshfield, MO
Lebanon, MO
Fort Leonard Wood, MO
Licking, MO
West Plains, MO
Eminence, MO
Mountain Grove, MO
Texas County, MO
Phelps County, MO
Pulaski County, MO
Laclede County, MO
Wright County, MO
Douglas County, MO
Howell County, MO
Shannon County, MO
Dent County, MO
Alton, MO